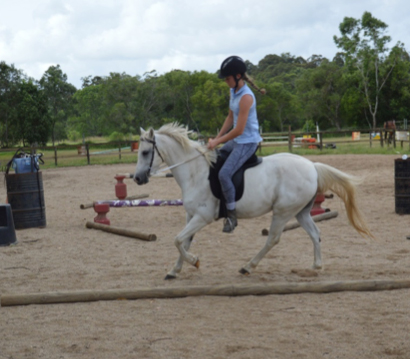 \
Vinnie. Free Lease with conditions.
Has to remain at Sunshine Coast Agistment. Agistment and other fees are applicable. Farrier, feed and worming plus vet care if necessary unless condition is pre existing like cancer.
$0
Conwy Park Vanilla Bean - 12.2hh welsh B grey 12 yr old gelding. 2007 born
Vinnie has personality. That's the first you say about him, I have had him since he was 2 ½ and I have learnt nothing is sacred. Rugs on the gate, his. Whellbarrow to play with his . Your hat – his. Getting the picture? He is cheeky and knows it. Lucky hes cute… Basically a true welsh pony.
Vinnie has previously done pony club with beginner children BUT I am leasing him as a true second pony – not a nervous riders pony, not a leadline pony. He will be mothers dream 80% of the time and then a right rotton toad the 20% that can shatter a nervous riders confidence. For this reason, a bold 10 year old child and up or young adult (I rode him for 3 years in Vic at adult riding club. Wasn't too heavy but boy did I look silly with my long legs, but it gave him lots of miles and outings.)
Has previously done adult riding, pony club, dressage, combined training, navigation / trail rides, gymkhana, stockman challenge and showing. Minimal jumping esp x country as Im too big to jump him and beginner kids don't do x country! May suit sporting or trail riding for those not interested in pony club as can open a gate etc on him. Can get seperation anxiety but if you're a capable rider its just a bold no we are not / nor will we and show him who is boss and hes fine. Prefer small adult.
Has foundered in the past (Was diagnosed with Equine Metabolic Syndrome but latest bloods indicate he is fine. Has melanomas in his mane and tail) Is on Hygain ICE and add speedibeet when required. Don't feed him lucerne no need, just grassy hay when required. Has solid feet, easy to catch and handle.
Call Niki 0402 806 939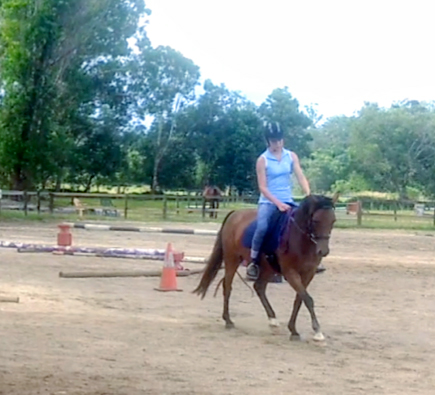 Conway Park Lochlan (Lochie)
- welsh b x TB 10 yr old.
Lochie is a Bay gelding, two white socks approx 14. 1hh - 2009 born. Lochie was bred for pony dressage and has had the basics established. Lochie's training was completed in Vic (prior to us moving to QLD) by a successful champion pony dressage rider, trainer and EA coach. Since the move Lochie has had a cruisy time giving pony rides, having a weekend bum about and generally living the life of luxury, he is therefore out of work and will need bringing back in, although he was ridden 1-2 times a week its not under schooling. Lochie has had a play around at a few things, adult riding club, trot pole and jumping classes, stockman challenge and trail rides.
Lochie is a bit of a follower and not a leader, not a scardy cat but not a bold horse, prefers to digest the information then proceed, he needs more miles under his belt to be an all rounder, and needs more exposure to outings / shows. He has a cheeky welsh personality and loves a good butt scratch.
He would suit an intermediate rider (child or adult) with an established seat and knows or learning the dressage buttons, he will give you a good ride if you ask him correctly, if you do not you will get lots of head tossing and no collection, but a loose rein ride. He has a soft mouth and is mostly voice command. Lunge freestyle on voice. Can be lazy
He does have locking stifles so is better in work and hill work / trot poles etc. Does not affect him greatly although strengthening helps. He is barefoot and has separation growing out from being on high oxolate pasture. He is not lame, but is just short in his work, we think 2-3 more trims and it should have fully grown out.
He is not hendra vaccinated, is agisted at his current agistment at Sunshine Coast Agistment near Pomona.

I have had Lochie since he was 2 and brought direct from the breeder, not interested in a sale only for lease due to hectic life for the next 12-18 months and time poor.
Call Niki 0402 806 939
Lochie - FREE lease
Lease with conditions.
Has to remain at Sunshine Coast Agistment. Agistment and other fees are applicable. Farrier, feed and worming plus vet care if necessary.
$0-