At Sunshine Coast Agistment we offer unparalleled trail riding, and agistment.

All the horses have a close up inspection twice daily and have 24 hr supervision.

Our low agistment fee includes any level of care you desire, plus we supply at no extra charge to your horse a mineral, calcium and phosphorus mix in a chaff/copra mash for all their supplementary needs twice weekly.
Our paddocks offer excellent grazing and improved pasture, plenty of shade, fresh dam water and safe electric fences. Dog netting fences for miniatures.
Access to safe & stunning trails straight out the gate.
Please give us a call 0402 806 939 or email for further details agistment@awebsite.com.au
Location of our property below: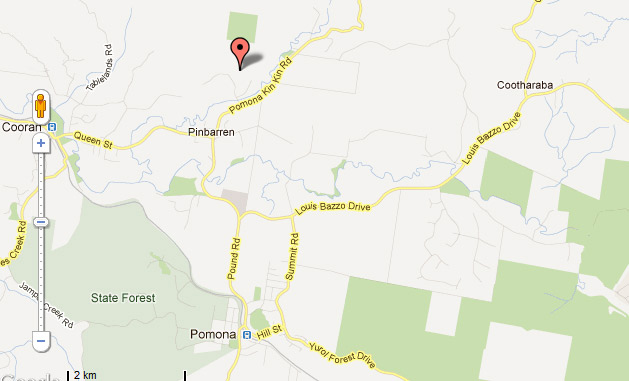 Testimonials
Hi Niki
We will come up and grab Eggi about lunch time saturday. Thank you so much for having her i will keep her on the mitavite breeder and the triple blend chaff I feed it now to my other horses and they are doing really well on it. If by chance we get stuck again would the old girl be able to come back to your place?
Thanks again
regards michelle 7.2.13
Hi Niki
I just wanted to say thank you once again for taking such great care of Khazaahn. I don't write every month - I run out of words to express my gratitude - but I appreciate the attention you give him. I am very glad he is with you and doing so well.
Many thanks
Sandy 4.2.13
Hi Nikki,
We have recently (18mths ago) moved to QLD from WA, BIG move and have settled in Boonah SEQ. I brought over 2 of my Morgan mares and my Morab . The morab and her yearling filly are suffering from QLD itch and I have just looked at your website
I wanted to just say a quick thank you for supplying such a website and look forward to trying out some of the remedies on your site.
Kind regards,
Christine Maroni
Dip Equine Bowen Therapy, Cert EBW-USA

Hi Niki
Thank you once again for taking such good care of Anouska - she was so very special, and she had the retirement I wanted for her in your kind and competent hands on your beautiful property. I could not have wished for more.
All the best Sandy 25.5.12
Niki, You have done a incredible job with the girls for which I am very grateful.

Ted 27.4.12
Hi Niki,

First of all I would like to thank you for looking after "Amigo" so well for the time he was at your place! I'm sure he is already missing some of his long time friends.
He has settled in quite well with "Harry", and we are both already looking forward to meeting you out there on the trials.

With the best wishes Louis 23.2.12
Hi Niki,

Just wanted to thank you again for all you help and for taking such good care for Taariq...
/

Regards, Ashley 25.1.12
Hey Niki,
I just wanted to say what a fantastic time I had on the weekend. It was the first time I have been able to respond to the 'how was your weekend' question with a genuinely positive answer in ages. Thanks Niki. Will definitely be coming up for more rides :)
Heather 23.11.11
Niki, The horses arrived safe and sound, they took absolutely no notice of me and just went off to eat! They all look great even Lenny. Thank you so much for looking after them. Best Wishes, Julie 3.3.10
Hi Niki,
Pommy looks great. Can't believe how shiny his coat is.... that's wonderful. I'm glad he has made friends and is in good hands. The monthly photos of Pommy's progress are something I really look forward to. Thank you so much, really appreciate it.
Hope you are well.
Take care, Bree 2.6.11
Hi Niki,
Thanks for taking such good care of my horses, I couldn't have asked for a better person. Its very exciting to finally get Twilight down here, I can't wait to see her again. She is arriving here on Tuesday. Thanks again for the great care you have provided for my horses.
Kind Regards Lynette 13.3.11
more information
The horses here are happy , they get exercise at play running around with mates and enjoy the security of small friendly herds. We allow 2 + acres per horse to ensure no over grazing occurs.
The horses are healthy because they get good constant nutrition, a cool refreshing swim in the dam, kind companionship, as all out horses are quiet, and ample shade and shelter.
We ride regularly, and invite you to accompany us (free of charge) on our rides through state forests, for a pub lunch, across mountain ranges, rain forests, and along the beautiful Noosa trail network. Free maps are available so you can enjoy the trails yourself without getting lost.
Our facilities include a tack room and feed shed, a caravan serves as a lunch room with tea facilities, parking, an out door arena, round yard and private access to paddocks.
With more than 25 years experience with horses, we can offer your horse full care if necessary. We offer occasional or full feed, and we can supply your horse's feed (Prime shedded hay, mixed lucerne grassy hay and hard feeds) at well under Sunshine Coast produce store prices, with the buying power of all our agistees together. Usually we save anywhere up to $3 on a bag of feed.

We use experienced farriers who will hot or cold shoe, Richard Hansen and John Wilson, or your choice of farrier.
We have several local vets, Cameron Hosking (equine dentistry specialist) Ben Poole and Stuart Bryce or your choice of vet.
We can worm, trim, shoe, float train, exercise, rug, attend minor ailments, or invite a dentist to attend teeth on your behalf if need be.
We can transport your horse. Transportation to our facility is free from the Sunshine coast for long term agistees. There is a small fee for fuel from Brisbane.
We email you monthly reports and costs, and for our distant agistees we email photos of your horse/s.
There are various riding events in the area that we frequent and invite you to join us, for example The Kin Kin Trail ride, Kilkivan, Imbil, & Kandanga 1000.
Occasionally our agistees have horses they want to sell, so check out our notice board (Click for more info) This site is free for our agistees to advertise their horses or gear.